2008 Fountain 38 Express Cruiser
$199,990 USD
2008 Fountain 38 Express Cruiser | 2008 Fountain 38 Express Cruiser - Photo #1
2008 Fountain 38 Express Cruiser | 2008 Fountain 38 Express Cruiser - Photo #2
2008 Fountain 38 Express Cruiser | 2008 Fountain 38 Express Cruiser - Photo #3
2008 Fountain 38 Express Cruiser | 2008 Fountain 38 Express Cruiser - Photo #4
2008 Fountain 38 Express Cruiser | 2008 Fountain 38 Express Cruiser - Photo #5
2008 Fountain 38 Express Cruiser | 2008 Fountain 38 Express Cruiser - Photo #6
2008 Fountain 38 Express Cruiser | 2008 Fountain 38 Express Cruiser - Photo #7
2008 Fountain 38 Express Cruiser | 2008 Fountain 38 Express Cruiser - Photo #8
2008 Fountain 38 Express Cruiser | 2008 Fountain 38 Express Cruiser - Photo #9
2008 Fountain 38 Express Cruiser | 2008 Fountain 38 Express Cruiser - Photo #10
2008 Fountain 38 Express Cruiser | 2008 Fountain 38 Express Cruiser - Photo #11
2008 Fountain 38 Express Cruiser | 2008 Fountain 38 Express Cruiser - Photo #12
2008 Fountain 38 Express Cruiser | 2008 Fountain 38 Express Cruiser - Photo #13
2008 Fountain 38 Express Cruiser | 2008 Fountain 38 Express Cruiser - Photo #14
2008 Fountain 38 Express Cruiser | 2008 Fountain 38 Express Cruiser - Photo #15
2008 Fountain 38 Express Cruiser | 2008 Fountain 38 Express Cruiser - Photo #16
2008 Fountain 38 Express Cruiser | 2008 Fountain 38 Express Cruiser - Photo #17
2008 Fountain 38 Express Cruiser | 2008 Fountain 38 Express Cruiser - Photo #18
2008 Fountain 38 Express Cruiser | 2008 Fountain 38 Express Cruiser - Photo #19
2008 Fountain 38 Express Cruiser | 2008 Fountain 38 Express Cruiser - Photo #20
2008 Fountain 38 Express Cruiser | 2008 Fountain 38 Express Cruiser - Photo #21
2008 Fountain 38 Express Cruiser | 2008 Fountain 38 Express Cruiser - Photo #22
2008 Fountain 38 Express Cruiser | 2008 Fountain 38 Express Cruiser - Photo #23
2008 Fountain 38 Express Cruiser | 2008 Fountain 38 Express Cruiser - Photo #24
2008 Fountain 38 Express Cruiser | 2008 Fountain 38 Express Cruiser - Photo #25
2008 Fountain 38 Express Cruiser | 2008 Fountain 38 Express Cruiser - Photo #26
2008 Fountain 38 Express Cruiser | 2008 Fountain 38 Express Cruiser - Photo #27
2008 Fountain 38 Express Cruiser | 2008 Fountain 38 Express Cruiser - Photo #28
2008 Fountain 38 Express Cruiser | 2008 Fountain 38 Express Cruiser - Photo #29
2008 Fountain 38 Express Cruiser | 2008 Fountain 38 Express Cruiser - Photo #30
2008 Fountain 38 Express Cruiser | 2008 Fountain 38 Express Cruiser - Photo #31
2008 Fountain 38 Express Cruiser | 2008 Fountain 38 Express Cruiser - Photo #32
2008 Fountain 38 Express Cruiser | 2008 Fountain 38 Express Cruiser - Photo #33
2008 Fountain 38 Express Cruiser | 2008 Fountain 38 Express Cruiser - Photo #34
2008 Fountain 38 Express Cruiser | 2008 Fountain 38 Express Cruiser - Photo #35
2008 Fountain 38 Express Cruiser | 2008 Fountain 38 Express Cruiser - Photo #36
2008 Fountain 38 Express Cruiser | 2008 Fountain 38 Express Cruiser - Photo #37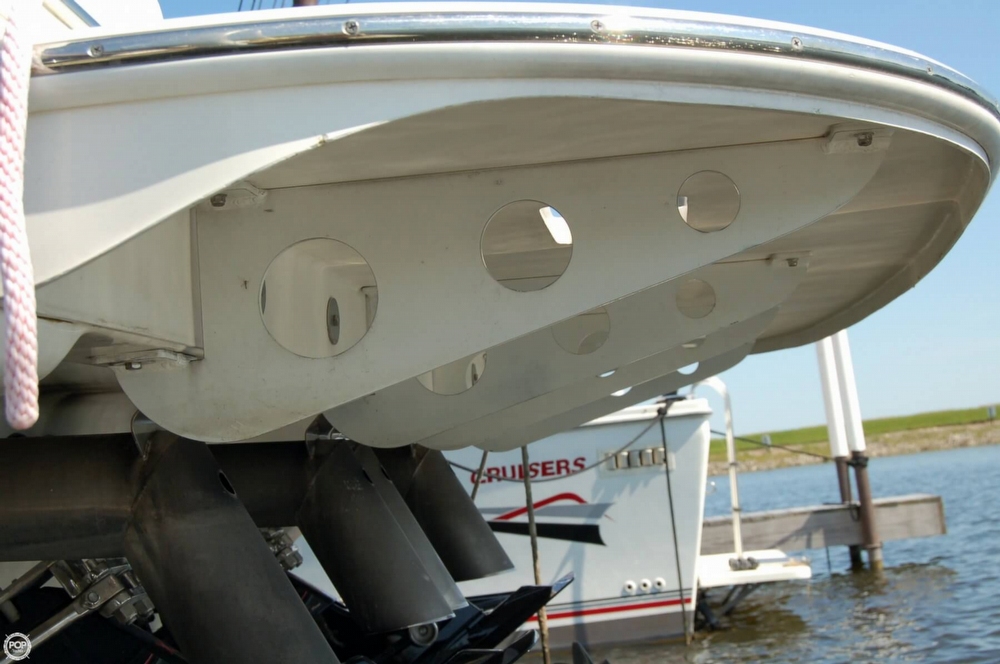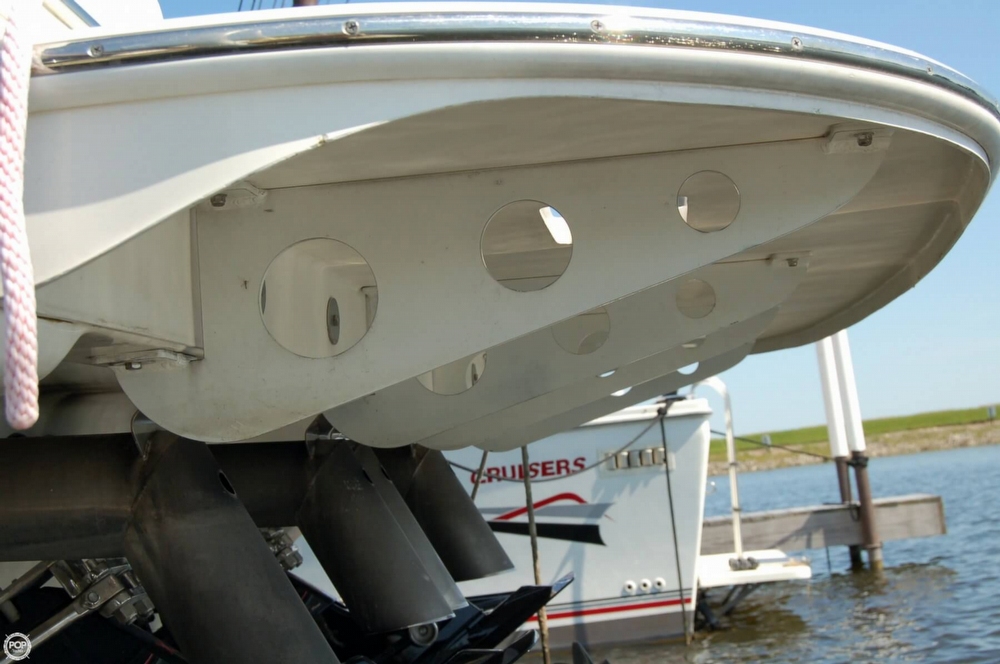 2008 Fountain 38 Express Cruiser | 2008 Fountain 38 Express Cruiser - Photo #38
2008 Fountain 38 Express Cruiser | 2008 Fountain 38 Express Cruiser - Photo #39
2008 Fountain 38 Express Cruiser | 2008 Fountain 38 Express Cruiser - Photo #40
$199,990 USD
Available
Used
2008
38 Express Cruiser
Linwood, Michigan, US
Power
089127
38ft / 11.58 m
11ft / 3.35 m

Mercruiser
496 Mag Ho
Inboard/outboard
Unleaded
Fiberglass
15000
10
2016-07-04
2016-07-04
1900814
- Stock #089127 -

This Boats was SOLD on June 2.



At POP Yachts, we will always provide you with a TRUE representation of every Boats we market. We encourage all buyers to schedule a survey for an independent analysis. Any offer to purchase is ALWAYS subject to satisfactory survey results.

Take a look at ALL ***146 PICTURES*** of this Boats, AND A VIDEO, on our main website at POPYACHTS DOT COM. We appreciate that you took your time to look at our advertisement and we look forward to speaking with you!
ConditionCurrent Owner (1st & Only Owner) Say's His 2008 FOUNTAIN 38 EXPRESS CRUISER Is In "Mint/Bristol Condition"...!! As Received From The Current Owner; -Boat Has Been METICULOUSLY MAINTAINED -PPG / AMERON PAINT HAS REPLACED NAVY GEL COAT... IT WILL NEVER FADE -All Service Records At Local Marina Service -New Bellows, Water Pumps On Both Engines And Genny Spring 2015 -Batteries And Upgraded 3 Bank Charger Replaced June 2015 -New IAC's And PCM's In Both Engines Replaced In July 2015 -OIL CHANGES IN FALL OR AT 40 HOURS- Only Run On "ROYAL PURPLE SYNTHETIC OIL" -ALL SYSTEMS ARE CONSTANTLY MONITORED AND UPDATED AS OFTEN AS NEEDED -Stereo Upgrade Was Done 2013 -Freshwater Use Only-Great Lakes -Lift Stored At Local Marina -Inside Heated Storage During The Off Season 2008 EAGLE TRAILERS INC Custom Tri-Axle Steel Trailer With Electric Disc Brakes, Spare Tire & Hull-Highlighting Lights In The Bunk Is Indicated By The Owner To Be In "Perfect Condition "And Is "OVERHAULED EVERY SPRING"
Navigational Equipment - Depth Instrument (Accurate At 60 MPH)
- GPS (GARMIN 4008)
- Navigation Lights
- VHF (Hand Held)
- Compass (In Dash)
- SIRIUS/XM Radio
Mechanical - Fuel Tank (296 Gal.)
- Trim Tab Indicator
- Trim Tabs (K-plane Heavy Duty)
- Windlass
- Custom Exhaust
Electrical Systems - Batteries (3 Total-1000 Ccas (2) Deepcell (1))
- Battery Charger (Triple Bank Semi-smart)
- Battery Switch (3)
- Circuit Breaker Panel (Extensive)
- Cockpit Lighting (LED)
- Fuel Gauge (2)
- Gauges
- Generator (Kohler 5KW (216 Hours))
- Shore Power (Twin 30 Amp)
- Speedometer (GPS On Dash & Chartplotter)
- Tachometer (2)
- Volt Meter (2)
- Water Temperature Gauge
- CD Player
- Oil Pressure Gauge
- Oil Temperature Gauge
- Water Pressure Gauge
- Alternator
- Engine Kill Switch
- Amplifier (1500 Watt Booster Amp)
- Subwoofers (3)
- Shore Power Cords ((2) 50')
Accommodations - A/C Heat
- Bimini Top
- Dinette
- Fridge/freezer
- Head
- Hot Water System (11 Gal Tank)
- Ice Maker
- Microwave (Tappan)
- Pressurized Water
- Sink (3)
- Stereo (Kenwood 700U - Extensive Upgrade)
- Stove
- DVD Player (NESA 8000T)
- Sony Flat Screen TV (Sony)
- Closet (Cedar Closet)
- Cabin Appointments
- Carpet-snap In
- Curtains
- Shower
- Countertops
- Table
- Cabin Door (Lockable)
- Cabinets
Construction - Propellers (SS)
- Radar Arch
- Bow Scuff Plate
- PPG Ameron Paint (Navy Blue)
Deck Gear - Anchor (Custom Stainless)
- Bimini
- Camper Canvas W/screens (With Canvas Storage Bag)
- Cockpit Sink
- Fenders
- Isinglass
- Mooring Lines
- Pop-up Cleats
- Storage
- Swim Ladder
- Swim Platform
- Transom Door
- Transom Shower
- Washdown (Fresh Water)
- Bow Rail
- Spare Props (Stainless Steel Dual Props For Each Drive 28 Pitch)
- Beverage Holders
- Bolster Seats (Electric)
- Cockpit Cover
Safety Equipment - Alarm
- Bilge Pump (3)
- Fire Extinguisher
- Fire Suppression System
- Fume Detector
- Grab Rails
- Horn
- Life Jackets
For Sale By POP Yachts
6384 Tower Lane, Unit A
Sarasota, Florida, 34240
US